Analysis kit
Regular price

€169,00

Sale price

€169,00
Analysis of over 1500 bacterial species in a stool sample using DNA sequencing
Learn about the diversity, species richness and species uniformity of your microbiome
Find out your food utilisation type (enterotype 1,2 or 3)
Learn how your gut bacteria impact your calorie intake and body weight
Receive information about the vitamin, sugar, fat, and protein metabolism of your gut bacteria
Understand the connections between the gut and the body
Practical dietary recommendations to improve your gut health
Choose between general and vegan diet recommendations

Your gut microbiome analysis at home - scientifically based - discreetly from home - with personal recommendations.
Your analysis kit

Your myBioma package contains an analysis kit with instructions, a sample container with a preservative fluid, a stool catcher for for low flush toilets and a pre-paid return envelope.

Collecting the stool sample

You can comfortably and discreetly collect the stool sample from home. After you have taken the sample and activated it, you send it back to us using the pre-paid return envelope.

The analysis

Once your sample reaches us, it will be processed in our partner laboratory and analysed using the newest DNA sequencing methods. This analysis is highly complex and therefore takes approximately 3 weeks.

Your microbiome report

You will receive your personal microbiome report in the app or as a PDF. Learn more about the content of the report below.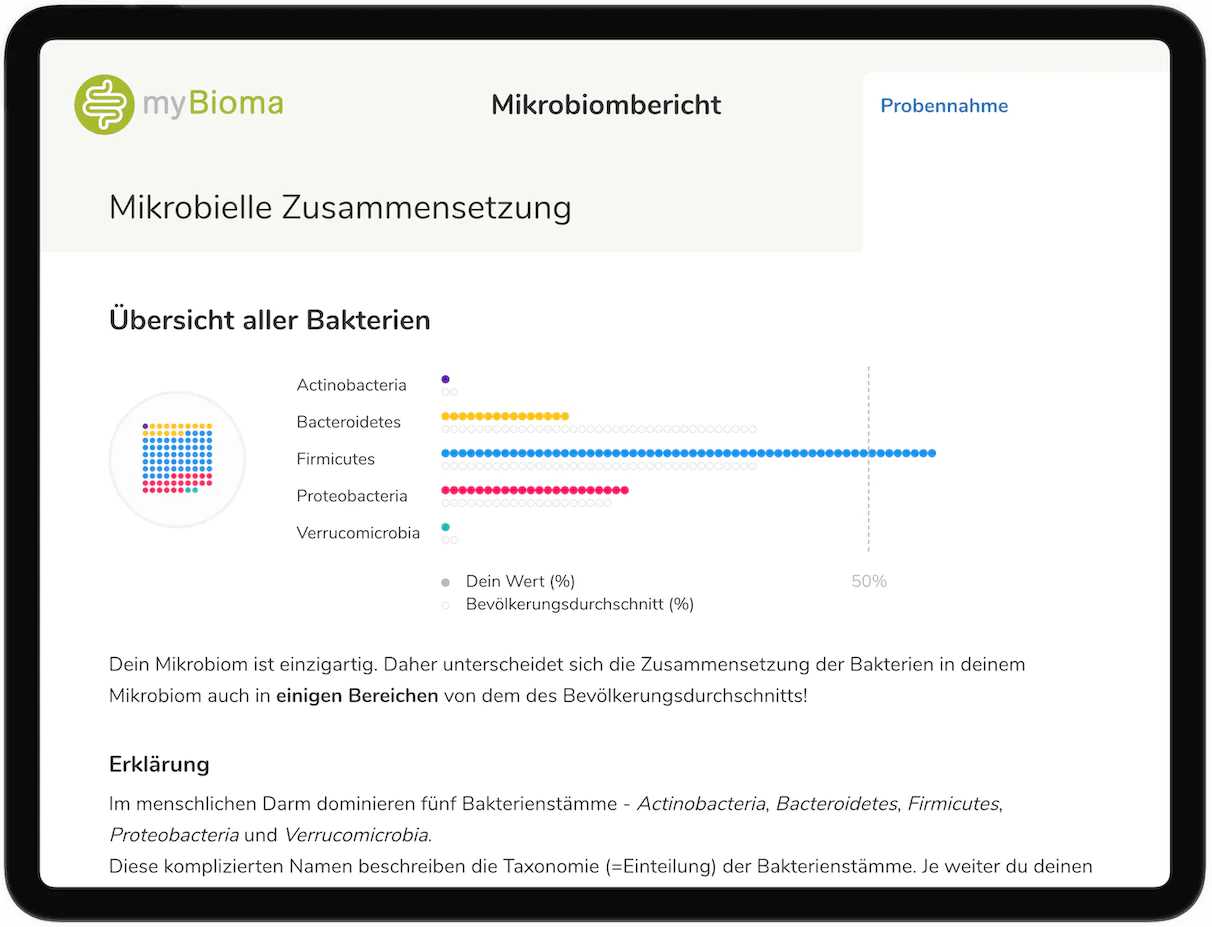 Your test results
Now you have the insight you need
Microbial composition: Discover how different and unique your microbiome is.
Nutrition and food utilisation: find out how your gut bacteria impact your nutrient intake.
Health: Learn about the health conditions associated with your bacteria.
Improvement recommendations: Based on your results, you will receive personalised improvement suggestions to optimise your microbiome health and enhance your well-being.

View sample report
Would you like to discuss your report?
Do you need effective assistance in integrating the recommendations from your myBioma report into your daily life? Are you looking for professional guidance to better understand the results of the report? Then you've come to the right place!
Benefit from an individual report discussion with experienced nutrition scientist Mag. Katharina Bruner. Her comprehensive approach allows you to actively work on your self-optimization. Simply book your report consultation now and gain a clear insight into your personal microbiome, along with practical tips for implementation.
Duration: 20 minutes online feedback session for your myBioma report
Available: Monday to Friday from 09:00 to 19:00

Appointment booking via email
Cancellable up to 24 hours in advance
No medication recommendations
Languages: German, English
Regular price

Sale price

€80,00
myBioma provides a detailed stool analysis. The tips are appropriate for the analysis. So far the best microbiome analysis I have done.

Susanne L.

The results and the nutrition tips were very informative. The contact persons are very cordial and competent. 5 stars from me.

Stefanie H.

Ordered and satisfied - good customer service and smooth processing. The data received from the sample helped me a lot.

Christopher R.